JOANNA FERRARI
The Transition Specialist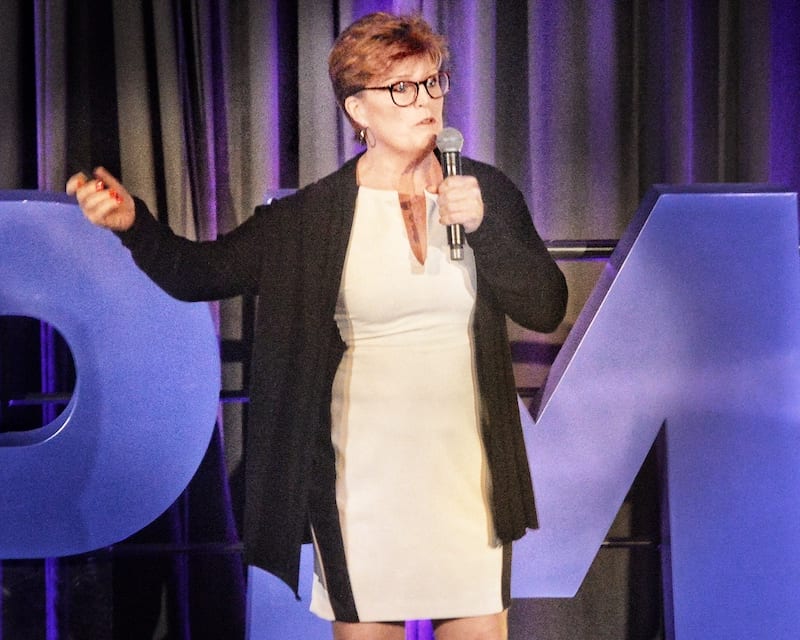 JOANNA FERRARI
The Transition Specialist
JoAnna had the professional and personal life we all dream of achieving. This dream quickly ended in June 2013 and her nightmare began when she openly told the world about starting her gender transition. The aftermath of this announcement was devastating. Her world exploded. She went from successful in every way to broken and depressed. Her old identify was completely stripped. Her years of success and achievements seemingly gone as a result of this massive transition. On top of the emotional stress came also the financial one as her bank account got to 79c. This reality however shocked her back to life.
JoAnna made herself see her situation as a fresh start, a blank canvas. She went to work studying and developing models and tools she could use to successfully transition, gain confidence and survive. In less than 3 years JoAnna turned a situation that almost took her life into a powerful comeback story. As a result, JoAnna is now known as 'The Transition Specialist'. She is an intelligent, humorous and passionate inspirational and business speaker. JoAnna always brings her most fundamental values of honesty, playfulness and adventure to her speaking. She teaches audiences how to have fun and succeed at getting into, out of or unstuck from their transitions.
A Snapshot of JoAnna's Successes
In the first half of JoAnna's life she was very successful. She was an entertainer, actor and model, and received degrees in biology, nutrition and nursing. She had amazing careers and had reinvented herself many times…
CEO for Anthony Robbins Australia
The Interim CEO and executive of corporations in three countries.
International Speaker and Trainer.
Coached and consulted to businesses in over 140 different industries.
Twice published author.
Over 14 year's experience as executive coach with top corporations.
Overseen sales and marketing for brands in Australia and overseas.
Received a standing ovation for her presentation entitled 'Your Secret Self', after closing the TEDx Melbourne event in 2016
What does JoAnna speak on?
The 5 Models of Change:Power, Confidence, Trust, Commitment and Connection
NOTE: To get the full impact of just who JoAnna Ferrari is and how her 5 Models of Change can powerfully and positively impact you and your audience, this description of what she brings to each customised presentation she performs is written so that a client can see where she has come from and how potentially they can work with JoAnna to produce the right unique presentation utilising her 5 Models of Change for their audience. To see how clients and audiences have responded to JoAnna's ability to work with them prior to the event and how she masterfully delivers her keynotes, please see the testimonials at the end of this profile.
"When I started developing the confidence to transition my gender in 2013, I had no idea what to expect. I knew for sure it wasn't going to be as easy as; set a goal, stay positive and take massive action. This was serious! I was desperate to find real answers. I knew what I was going to go through would be the most terrifying thing I'd ever done, uncharted territory. I needed a guide for survival! I did a lot of research and conducted over 180 interviews on transitions and still did not find any "real" sustainable solutions. That's when I realised I'm alone on this, it is completely up to me. I quickly grabbed a blank notebook and began to define my own transition processes and models. I studied all my male life achievements to determine my personal elements of success and failure. It took time, but I finally started to figure out who and where I was and how to keep my sanity as the world around me was exploding. These ideas have brought out the very best of me. These powerful learnings (my transition process) helped me create my beautiful life while others going through the same process were not. It is why I am so passionate and dedicated to teaching others how to use these tools to navigate their conflicts, survive the chaos and learn to take ownership and control that can be found their acceptance of transitions and transformations.
I have realised from my own experiences that our journeys are unique, because of that my presentations are tailored to suit you, my clients/audience's needs.  I don't tell audiences what to do, instead I share and explain what I learned using stories, models, examples and show real-world results. I tell each audience the whole presentation is not for you. I explain they need to listen for what resonates with them personally and trust their "selves" to let the most important things come out in your thoughts, notes, conversations and actions after the presentation. What a team or person creates from these ideas will be pure gold for them as it was for me. That is truly the only way to find real and personal answers, see one person's successful way and from it create your way.
I look forward to being a conduit of inspiration and change for you and your audience."
JoAnna Ferrari
Some Key Customisable Elements from JoAnna Ferrari's presentations…
JoAnna's Personal Journey from Male to Female[Crossing the Gender Line]
Do Men and Women Get Treated Differently[My experiences on both sides]
What is a Conflict Cycleand Why Do We Get Stuck in them?
What Is a Transitionand Is It a Gender Thing?
What Is Transformationand Is It Sustainable?
How Survival is a Crucial Step to All Your Future Success
How and Why to Gain Self-Intelligence
Why avoiding change/transitions can be damaging[to yourself, career/business and the world around you.]
How to take care of Your "Selves"[Body, Mind and Spirit. Spirit is defined as "Your Way']
How to grow your 6 Confidences[Body, Creative, Communication, Power, Relationship and Trust]
How our own limitations create self-limiting innovation or expansive synthetic-creativity
How to love and embrace changein all aspects your life
How to express resilience and positivity at the same time
How to create your own safe space[Your World Model] for change and transition
The 5 Models of ChangeJoAnna used to reinvented herself over 21 times
The 4 Major and 2 Minor Types of Changewe all go through
The 3 Phases of Transitioningand how to centre yourself to harness their power
How to Create Positive Conflictinstead of enduring negative conflict
How Avoidance and Fear of Change is Generationaland Changeable
How Change Can Powerfully Stimulate Higher Levels of;Innovation, Decisiveness, Relationships, Accurate Actions, Clear Thinking, Imagination, Confidence, Confrontation, Resolutions, Survival, Inclusion, Differentiation and Trust
Identity: How to live as a "Who" and Not as a "What"
Creating A Personal Journey Mapand Toolbox
What clients say about Joanna
"JoAnna was the closing speaker at our TEDxMelbourne 2016 event. She delivered the most powerful and passionate talk of the day and ended up with a well-deserved standing ovation (hard to do on a TEDx stage)."
TEDx Melbourne
"On behalf of YWCA Australia I wish to extend our sincere thanks to you for presenting as a Keynote Speaker at the SHE Leads Conference on 7th September 2018. Overall the conference has been rated very highly with many positive comments being received. We felt your presentation was an excellent way to end the conference and the way you delivered your presentation kept people engaged right until the end."
YMCA
"JoAnna presented at Spark the Change Melbourne 2018 an event about bringing meaning and purpose to work. Jo's session was extremely well received, highly praised and top-rated in participant feedback. Engaging, memorable, inspiring and valuable- I absolutely recommend Jo as a presenter and speaker."
Spark the Change Melbourne 2018
"Joanna's methods of unpacking to the essence, cutting away the fluff and BS to get to the core of what really matters is refreshing, confronting at times (but that is a good thing) and most important of all, done in an atmosphere of trust and openness. If you are willing to trust yourself, let down your guard and are curious in what can be, I would recommend Joanna without any hesitation."
PwC
"Joanna's guidance & executive coaching was monumental in my career & helped me move forward professionally & personally. Her unique, sassy tailored coaching sessions have been the best investment. Her boldness & direct approach allowed me to look at things differently & the way she challenged my own limitations allowed me to be fearless."
BT Financial Group
"I engaged JoAnna to be part of a panel discussing Homophobia and Transphobia in the workplace as part of Westpac Group's support for IDAHOT (International Day Against Homophobia and Transphobia). JoAnna was honest and open, sharing her experiences and raising awareness of overt and subtle transphobia. She is a great communicator and engages very well with her audience. We received great feedback and JoAnna was the stand out guest, with many learnings from audience members coming from JoAnna's input"
St George Retail Bank
"JoAnna was wonderful. She was energetic and passionate about giving her best presentation for our conference. Well in advance of the conference JoAnna reached out to get a better idea of the audience and displayed a sincere dedication to understanding the audience and working to achieve a presentation that would suit them and the room."
 Australian Nursing and Midwifery Federation